Four items today
Jack Aaron's speech
Rabbi Mirvis on Teresa May
Teresa May's speech at the Finchley Untied Synagogue 2015
A visit by the Stropkover Rebbe
Jack Aaron's opening speech at the Vancouver opening of Memories of Muizenberg Exhibition
Subject: Chief Rabbi Mirvis on Theresa May
Date: 17 July 2016 at 11:01:00 PM GMT+3
As David Cameron's tenure as Prime Minister ends, I wish to take this opportunity to thank him for his deep friendship and for his unwavering commitment to promoting the values of decency, respect, liberty and responsibility, which we all hold so dear.
I have been privileged, in particular, to have worked alongside Mr Cameron to ensure that Britain remembers the Holocaust and educates generations to come about the lessons we must learn from it. He is a man who not only speaks with great principle and conviction but who acts upon what he believes. I know that the strong relationship he enjoys with the Jewish community will endure for many years to come.
Today, Theresa May becomes Prime Minister at a time of great political, social and economic uncertainty. Few people are more talented or better qualified to tackle these immense challenges. I recall the speed and the sensitivity with which she reached out to the Jewish community following the terror attacks on Jewish targets in Europe last year. As she made clear then – "Without its Jews, Britain would not be Britain". She has proved herself to be a friend and champion of our community and of other faith communities who share her values of tolerance and understanding.
Last night, on the eve of her becoming Prime Minister, Theresa May kept a longstanding arrangement to join Valerie and me at our home for dinner. The fact that she did this in the midst of critically important preparations before taking up office is a reflection of her strong desire to keep to her commitments and the esteem in which she holds the British Jewish community. I was delighted to have the opportunity to give her my blessings at this very auspicious time.
I wish her every success as Prime Minister and look forward to building upon our warm relationship over the coming years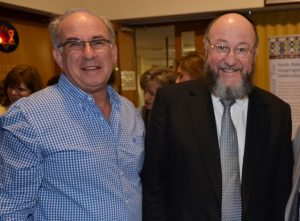 Speech by Teresa May at Finchley United Synagogue last year when she was Home Secretary.