Litvak Portal:
I have set up a gateway to anything Litvak on Facebook. A website will also be added.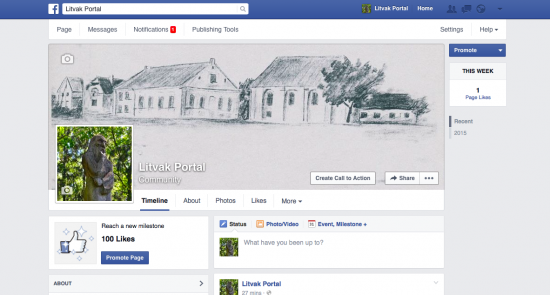 https://www.facebook.com/pages/Litvak-Portal/1014205898589973
This Facebook page and its associated website will be dedicated information gateways (portals) to aspects of Jewish life, past and present, in Lithuania and those parts of Belarus, Latvia and Poland regarded as Litvak.
Categories to be included:
General History and Facts
Jewish Cultural History
Holocaust
Family Histories & Genealogy
JewishGen KehilaLinks
Geography
Education
Touring & Travel
Photography
Museums & Cultural Centres
Research
Synagogues
Jewish Communities
Music
Shtetl & other Special Projects
Litvak Diaspora
Diplomacy
Lithuanian KehilaLinks (Jewish websites)
Alytus
Arad
Aran (Varena)
Birzai
Druskinkinkai
Kedain
Kibart (Kybartai)
Kopcheve (Kapciamiestis)
Koshedar (Kaisiadorys)
Mariampol
Memel (Klaipeda)
Meretch
Naishtot
Naumiestis
Pilvsk
Ponievez
Pen
Plungyan
Salant
Serey
Shaki
Stokishok
Sudarg
Tavrig
Telz
Utena
Vikovishk
Virbain
Vishey
Other kehilalinks
Latvia
Aizpute
Belarus
Mir
Navahrudak
Brest
Vysokaye
NE Poland
Orla
I look forward to your suggestions.