Update:
The Ten Commandments have just been added – thanks to Cliff Marks for providing the update and 2 photos.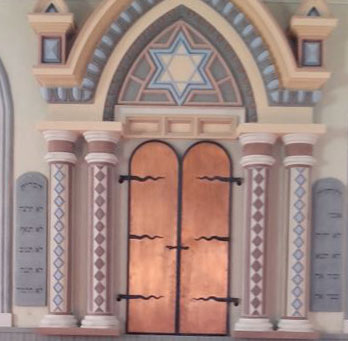 My original photo
The complex of the two synagogues
I was let into the buildings by a caretaker and revisited an hour later when I was fortunate to meet Linas Vinickas from the local museum. Linas gave me a tour of Jewish Joniskis.
The Raudonoji Synagogue
A short video of Linas Vinickas
The Baltoji Synagogue
Students' tour of the synagogues
The third synagogue building
The Mural which includes the actor Laurence Harvey
Joniškis
From Wikipedia, the free encyclopedia
Joniškis (
pronunciation (help·info)) is a city in northern Lithuania with a population of about 11,150. It is located 40 kilometers north of Šiauliai and 14 kilometers south of the Lithuania–Latvia border. Joniškis is the municipal and administrative center of Joniškis district municipality.
With the Church of the Accession of the Holy Virgin Mary (founded in 1901) and a complex of two Jewish synagogues – Red (built in 1897) and White (built in 1823) at its centre, the town has the status of an urban architectural heritage site.
Joniškis has a Culture Centre, a local venue for music and theatre events.
A railway line connecting Riga and Šiauliai runs along the western boundary of the city. West of the railway, the city's allotment gardens and the Lutheran and Victims of World War II cemeteries are located. Joniškis hosts the Jonas Avyžius Public Library of Joniškis District Municipality
Name
Joniškis is the Lithuanian name of the city. Versions of the name in other languages include Polish: Janiszki, Russian: Янишки Yanishki, Belarusian: Яні́шкі Yanishki, Yiddish: יאנישאק Yanishok, German: Jonischken, Latvian: Jonišķi
History
Joniškis was established in the beginning of the 16th century. It was mentioned in written sources on 23 February 1536 when Bishops of Vilnius and Samogitia visited the area and found that people still practiced the old pagan faith. People were worshiping the God of Thunder (Perkūnas), fire, snakes and other pagan deities. The bishop of Vilnius, John of the Lithuanian Dukes baptized the locals and established the new parish on 23 February 1536. A wooden church was built and the town of Joniškis was built around it. Bishop of Vilnius named the town Joniškis after his own name Jonas. Joniškis was on the crossroad of important trade roads.[1]
In late 1941, 148 Jewish men were shot near Joniškis in the nearby forest. The remaining Jews (men, women and children) were murdered in the forest in September 1941. 493 people were murdered in total by an Einsatzgruppen of Joniškis policemen and Lituanian nationalists supervised by the Germans.[2]
Notable people