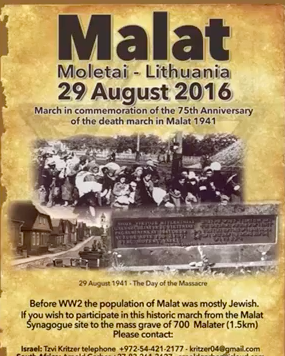 Times Of Israel report on the Malat Event
Molėtai
From Wikipedia, the free encyclopedia
Molėtai (
 pronunciation (help·info), Polish: Malaty) is a town in north eastern Lithuania. One of the oldest settlements in Lithuania, it is a popular resort for the inhabitants of Vilnius. According to the 2013 census, it had 6,302 inhabitants.
The town is located about 60 km (37 mi) north of Vilnius and 30 km (19 mi) south of Utena.
History
It was first mentioned as a private property of the bishop of Vilnius.
On August 29, 1941, 700 to 1,200 Jews were murdered in a mass execution perpetrated by an Einsatzgruppen of Lithuanian nationalists.[2]
In modern times the city has Molėtai Astronomical Observatory, the only such facility in Lithuania. And Lithuanian Museum of Ethnocosmology – the first such type of museum in the world.