July 2018
After the torah reading on shabbat, we recite Av Harachamim
in the ArtScroll
ArtScroll – Wikipedia
A noteworthy custom fitting the mood of the Sefira period deals with the prayer Av Harachamim. Av Harachamim, recited on Shabbat after the Torah reading was written in response to the Crusades. In it we memorialize the righteous martyrs and pray for retribution for their spilled blood. Av Harachamim is generally not recited on Shabbatot which have an added celebratory nature – such as Shabbat Mevarchim (the Shabbat in which we bless the new month). In many congregations during the Shabbatot of Sefirat Haomer, Av Harachamim is recited even on the Shabbatot in which we bless Iyar and Sivan. The Mishna Brura (284,18) adds, that even if there is a Brit Milah that Shabbat, giving us a second reason why Av Harachamim should not be recited, Av Harachamim is still said, since this was the season of the tragedies.
Before reading the Av Harachamim prayer, we select one of the 6500 shtetls that existed before and during the Holocaust from this three volume set:
We then share the story of the particular shtetl to illustrate what we lost in Holocaust!
This week – Plunge / Plungyan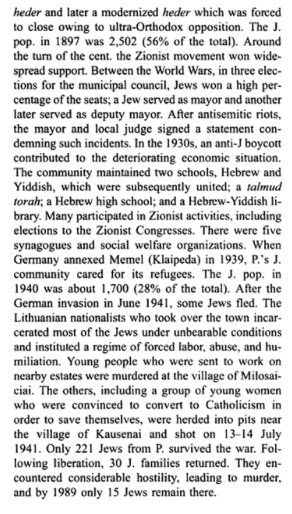 Thanks to Michelle Urban and the Western Australian JHGS for allowing me to use these books from their excellent library housed at Noranda CHABAD.
For more on Plunge visit the KehilaLink: