Jewish Historical and Genealogical Society of Western Australia (JHGSWA)
Carmel School Year 10 Essay Competition
Introduction
This story is about how my father recreated a part of our family tree history that from myself goes back seven generations. The story starts back in the early 1800's in Eishyshok, a small shtetl on the border of Lithuania and Belarus, and ends 200 years later in Perth, Australia. Through this story I am able to see how the lifestyles of so many generations have changed, yet the Jewish traditions and values of these generations have stayed the same.
Most of the history from this story would be unknown to myself and my family if it were not for some coincidences and amazing chance communications that linked one branch of the family in Australia to an unknown branch of the family in America.
When this story started 200 years ago, the Lithuanian Jewish community mostly lived in the shtetl. These were small villages in Eastern Europe where Jewish communities lived together for centuries[i].   They traded with the non-Jewish communities around them, however their Jewish traditions and lifestyle was very separate. People in the shtetl had their own systems of education, religious observance and community structures that were very unique. Today, Jewish communities still have systems of education, religion and community organisations, however these are no longer small or isolated. Today the Jewish communities around the world connect with each other through social media and ease of travel. Today most Jewish communities integrate more with the non-Jewish communities around them for more than just commerce and trading.
I would like to tell the story of my family from Eishyshok, and also how we discovered this history that might have been lost. Through learning about this, I am also able to imagine what it was like to live in the various generations that sit within this family tree.
Family Tree
My family tree has many different branches on both sides of my family. They come from all around the world. I have chosen this particular story, because I can trace a journey backwards and learn about a particular place that was very special for the Jewish world.
When I was born I had one great grandmother, who migrated to Perth with my family when I was a baby in 2000. I remember her, although she was very old and unable to communicate with us. This story is about her husband's family. We knew that my great grandfather and great grandmother came from Sunderland in the North of England, but we never knew where their previous generations came from.
One day my father was doing some family research and found my great grandfathers handwritten address book. In the address book was an entry under the name "Goldin" which was marked "Cousin David". The address was for the "House of David Jewish bookshop" in Los Angeles, USA. My father remembered that his grandfather had once told him that there was a relative in America who was a famous Jewish author. He tried to dial the phone number in the book, but it no longer existed. Later that night he went onto Google and typed in the name "House of David Bookshop". An entry appeared and he went to the bookshop's website.
At 3.00 AM he phoned the bookshop and explained that he was calling from Australia to enquire about Mr David Goldin. There was a pause at the end of the phone, and the person then said "I am Philip Goldin, the son of David Goldin. My father passed away some years ago. My family used to own this shop, but we sold it. Every so often I come into the shop just to help out, and its' quite a coincidence that you phoned while I was here." My father explained that his grandfather was a first cousin of David Goldin, and it ended up that the conversation then lasted for several hours.
Philip Goldin called my father back the next day. He had found a letter that my grandfather had written to his cousin in 1977, shortly after his migration to New Zealand. The letter contained information about his mother, Leah Pekovsky (after who I take my middle name). Philip Goldin also talked about his grandfather (Leah's brother) who was called Rabbi Hymen E Goldin.   Rabbi Goldin translated many Jewish texts into English, including the Kitzur Shulchan Aruch.
My father then travelled to the USA to meet the Goldin family. He was amazed to discover an entire experience that was very similar to the experience of our family in Australia and New Zealand. It was then that he not only discovered the generations that preceded Leah, and their origin in Eishyshok, but also about the amazing history of that place.
Together the family was able to work out that the Pekovsky family left Eishyshok in the mid 1890's. At the time there were some political disturbances with the Russian army, including pogroms which had occurred in the region. There was also a big fire in Eishyshok that caused many people to leave. Also, because of the industrial revolution and modern industry beginning to develop, many Jewish people started to leave Europe for America as they believed there were jobs and a better life available for them. America was called in Yiddish the "Golden Medina", meaning the Golden Country.
For some reason my Great Great Grandmother Leah terminated her journey in England, while the rest of her family continued to America and changed their name to Goldin.   Leah spoke no English for her entire life. She married a Russian Trade Unionist and they settled in the North of England in a poor town. They had six children, but in the 1930's her husband was imprisoned for his Union work and then died in prison.
During this era there was a lot of unemployment and poverty in the region. One famous event the Jarrow March in 1936, when 200 men from the town of Jarrow marched to London to protest at the Parliament[ii]. It was the era of the great depression. Whilst there is little information about the activity of Leah's husband, this is the type of union activity he was probably associated with which led to his death. After he was killed some of her son's then migrated to New Zealand taking their mother with them. It seems that Leah had little contact with her family in America.
Here is a picture of Leah with her five sons taken in 1936. My great grandfather Alan is second from the left:
One of the questions my father asked the Goldin family in America was whether they knew the name of Hyman Goldin and Leah Pekovsky's parents. The family responded that Hyman Goldin had written a book in 1941 called "The Jewish Woman and her Home".   He had dedicated the book to his parents Yehuda Menachem Mendel and Batya and cited this in the front of the book. It turned out that my mother has a copy of this book which was gifted to her as a bat mitzvah present by her grandmother. This is an amazing coincidence that connects my mother's family to my father's family. When my maternal great grandmother gifted this book to my mum on her bat mitzvah she would never have known that the book was dedicated by the author to the great great great grandparents of her own great grandchild!
Before my father left America he mapped out the full family tree. He also travelled to New York to meet Rabbi Shmuel Goldin, another descendent. Rabbi Goldin had a picture on his wall, which was taken in the late 19th Century. It was of Yehuda and Batya, my great great great grandparents. This is the photo:
It was because my father found the Goldin family and worked with them to trace the family history that I am able to know that my family from this branch lived in Eishyshok. My direct connection to this family line dates seven generations as follows:
I have been interested to learn more about Eishyshok and its history because I can connect my family origin to this small shtetl.
The History of Eishyshok
There is a book written by Yaffa Eliach Called "There Once Was A World: A 900-Year Chronicle of the Shtetl of Eishyshok" that describes and documents the beginning and the ending of Eishyshok. The small shtetl was full of life before the Holocaust. Everyone had their job in the Shtetl and they all worked collectively to make life run smoothly by mainly using a bartering system. The children spent time learning and working for their families but still had time to play. The jobs were spread across the community for example, someone would be in charge of teaching the children at the school (chader), and families had trades such as being a butcher, shoemaker, clothes maker or fur maker. Every year there was a big horse market in Eishyshok where people came from long distances to buy horses for transport.
They had a communal fire for Shabbos and each family would bring their cholent pot to cook for Shabbos lunch. The rich families would have more meat in than the poor people in their pot. There is a story in the book about how some children decided to move the meat from the rich people's pots to the poor people's pots, so on Shabbos they would find that they had been pranked by some of the children in the Shtetl.
The community had its own leadership and was guided by the authority of the Rabbis. However there were also representatives that maintained a relationship with the Government and arranged the collection and payment of taxes.
For some time Eishyshok had been under Russian rule, however in March 1831 the Polish Rebellion reached Lithuania. The loyalty of the Jewish communities was demanded by both the Russians and the Polish, and many Jewish communities themselves were divided about who to support. There was a battle near Eishyshok between the Russian army and the Polish army that the Russians won. The Polish troops blamed the Jews for their loss and murdered many people as a consequence. Yaffa Eliach writes as follows:
"When the rebellion was at last put down, Russian officials from a number of cities, including Vilna, Grodno and Bialystok thanked the Jews for their support. Even the anti-Semitic Prince Dolgoruky expressed gratitude to the Jews. In Eishyshok, one of the families who had been loyal to the Russian's, the Paikowskis were given land and other benefits as a reward for their help. These privileges, political as well as financial, exempted the Paikowski's from a number of the Tzar's punitive measures, including the 1835 restrictions on Jew's voting in elections.[iii]
This would have occurred in the first generation of the family tree I have traced, in the era of the parents of Yehuda (from the above photo). The Goldin family in the USA have a record that shows the family were given a title called "Stievish". They are not sure what it means, but think that it is a form of nobility.   They also hold records to show that the Paikowski family written into Yaffa Eliach's book is the same as the Pekovsky name that we carry into our family tree.
Eishyshok suffered again in 1863 due to another Polish uprising. Following this, land that had been in Jewish families for centuries was taken away by the decrees of Tzar's Alexander I and Nicholas I, and given to local Peasants and Christian families. This happened again in 1869 where the Russian Government confiscated land and gave it to army veterans.
There was a major fire in Eishyshok in 1895. Around this time many people started to emigrate to America instead of rebuilding their homes. By 1905 more than 800 people had left, but there were still 2,500 residents of Eishyshok, mostly Jewish residents of the Shtetl, but surrounded by some Christian farmers.
After WWI Eishyshok came under Polish rule. Jewish families tried to reclaim their land, but the Polish were no more sympathetic than the Russians and there was no chance of having the stolen land returned.
On September 25, 1941 some 3,500 Jews from Eishyshok and another 1,500 from surrounding regions were rounded up by the Nazi's and their Lithuanian collaborators. They were murdered and only 29 people survived. More than 900 years of Jewish history and tradition had been ended.   Today the town still exists in Lithuania (called Eisiskes), but has no Jewish population. A documentary has been made about the Shtetl that shows the history and massacre of the Jewish community. There is an Eishyshok society in New York that meets annually to commemorate the Shtetl and reflect on its history.
The map below is on page 50 of Yaffa Eliach's book "There Once was a World", and show's the Shtetl living environment: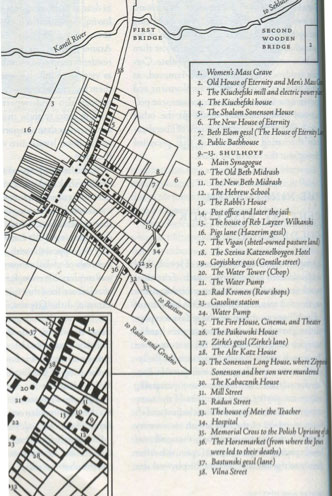 Conclusion
Eishyshok has a special place in my heart because of its rich history and my family connection. I am privileged to now be able to trace this history back over 200 years and to have the benefit of so much information that my father and the family he found in America has been able to reconstruct.
I can tell from the stories about Eishyshok and the pictures of my relatives that my family was very Jewish. They would have studied Torah, kept Shabbat and celebrated the festivals, and prepared all their own kosher food to eat. They would have wanted to be left alone to live according to their tradition, but at the same time, when it came to business and their interaction with the Russian and Polish governments they would have wanted to have good relationships.
Today Jewish life is also very important to my family. However we are not as isolated from the society around us.   It is also possibly more convenient to be Jewish as it is very easy today. In the Shtetl they had to shecht and prepare their own chickens. Today if I want a kosher chicken I just go down to Coles. Today if I want to find out what is happening across the Jewish world I just jump onto my ipad. In the Shtetl, they would have had very little information, if any, about Jewish communities in Israel and other places in the world. In the Shtetl the relationships between families were very dependent on each other for bartering. However in today's Jewish community our connections to other families are mostly social.
Although these things are different and have changed because of technology, there are still many things that are the same, especially our traditions.   I go to cheder every week and learn the same texts as children in Eishyshok 200 years ago would have learned. It is very important for me to know that I am Jewish and have traditions to preserve and it was no different for my previous generations in Eishyshok. While the politics is different today, the Jewish community is still concerned about the safety and security of Jewish communities, and back in the shtetl they also had to protect their freedom.
If I follow my family tree I can see that my family has travelled from Eishyshok to England, America, New Zealand and Australia. They have taken with them their Jewish identity and never forgotten from where they came. The era and place in which they live may be different, however the love of being Jewish has stayed with my family wherever they have been.
[i] http://www.myjewishlearning.com/article/shtetl-in-jewish-history-and-memory/
[ii] http://www.bbc.co.uk/history/british/britain_wwone/jarrow_01.shtml
[iii] Eliach, Yaffa, There Once Was a World, 1998, Little, Brown and Company, Page 52